Yes, I want to order Solitaire Wizard!
Begin Secure Order Now!
US$12.95 - optional $9.95 shipping for CD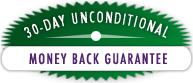 As soon as you click on Begin Secure Order Now, you will be taken to our secure server.


If you order online, you will receive your registration code to enter into the trial version as soon as your order completes.


We offer an unconditional 30-day money-back guarantee! If for any reason you are not satisfied with Solitaire Wizard, you can return it for a refund.


We will not sell or give your personal information to anyone.


For an additional US$9.95 shipping you can receive our CD-ROM with the latest version of Solitaire Wizard and trial versions of our other games. CD-ROMs usually ship the next postal business day.


Comments, questions, problems? Contact us at orders@goodsol.com.


If you have already ordered Solitaire Wizard and have lost your registration code, see our Lost Code Lookup form.


Order by Mail Form - Print out and send with a check